What childhood stories have stayed with you?
The Oz books? Narnia? Harry Potter? When those fantastic imaginary worlds are in the public domain, we readers get to enjoy clever spin-offs by other authors inhabiting those same mythic worlds. League of Archers by Eva Howard is one of those clever spin-offs.
The Neverland is one of my favorite mythic worlds—my books are a contemporary spin-off of J.M.Barrie's classic Peter Pan—this time with a girl hero.
Peter Pan is long gone, Tinker Bell is getting old, and the Neverland is dying. Its only hope lies with Peter Pan's eleven-year-old orphan granddaughter, Piper, and her motley group of fellow foster girls.
Another favorite world: Robin Hood and His Merry Men.
When I named "Piper Pan and Her Merry Band," obviously I borrowed from those brave Merry Men. I was therefore delighted to find League of Archers by Eva Howard. Not only is it a clever spin-off of a beloved world, but also, like Piper Pan, it features a girl hero!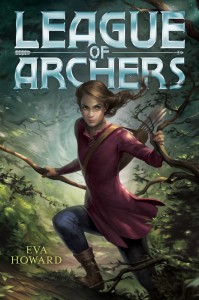 Ellie Dray has grown up idolizing Robin Hood but when the famous outlaw is killed right before her eyes—and she is accused of his murder—she finds herself questioning all she thought she knew. Now an outlaw herself, she and her friends must fight to clear her name and stop the local baron's evil plans.
Sword fighting, archery, friends finding the courage to stand together in the face of danger, fighting on the side of right and all that is good—these elements had me from the start and carried me through. Ellie and her League of Archers even get to save Maid Marian—who's been working against injustice as an aging abbess.
If you've read my books you understand the parallels, and why I would so very much like League of Archers.  I recommend it highly as an entertaining and adventure-filled book. FYI, it comes complete with historically correct lifestyle details, including the gruesome villainy of the bad guys.
Be sure to pick it up at your local library or neighborhood bookstore!
Happy Reading!