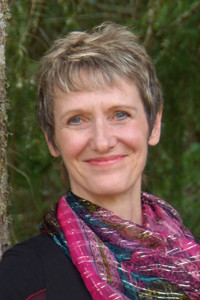 Biography of Lindy MacLaine
**If you are doing a book report about me, this is the best place to get accurate information. Please remember to put things into your own words rather than just copying!
Born: May 19, 1962
Place of Birth: New Brunswick, NJ
Education: My family moved often while I was growing up. I tell people my dad was a librarian "with an itchy foot." He enjoyed challenges, and getting a new job in a new place was his way of providing us with travel opportunities.  I graduated from High School in Northfield, Minnesota, and by that time I had lived in Colorado, Maine, and Alaska as well as Minnesota. I also lived abroad: from age 4 to 6 in Afghanistan, and age 16-17 in Peru. The year in Peru was as a high school exchanges student through A.F.S. (American Field Service). I attended Bowdoin College in Brunswick, Maine, where I got a BA in Spanish. After my year in Peru I spoke and read Spanish pretty well, so it was like majoring in English: lots of books to read, lots of papers to write. I loved weekly "Spanish table" – it was probably the most social thing I did during my college years, as I was pretty shy – kind of a mid-western bumpkin at this east coast school. I enjoyed learning, and graduated Summa Cum Laude, Phi Beta Kappa. (Latin for good grades!) Over the years I got certificates in different areas as I tried different things: I studied Sign Language Interpreting after college, and much later I completed studies to do work as an aesthetician. Trying things is a great way to learn about yourself, as much when they don't work out as when they do.
Childhood Influences: Books were my best friends for many years. We moved often, so curling up with a book was my most trusted form of entertainment and solace. Some of my favorite books as a child were The Secret Garden, by Frances Burnett Hodges , C.S. Lewis' Narnia series, Julie and the Wolves by Jean Craighead George, and the Oz books by Frank L. Baum. I used to invite my friends over for Oz adventures. We would travel to Oz and have the adventure that I decided we would have (it was definitely my game.) I played trumpet in band, sang in choir, and loved art class. I was very lucky to go through school while those kinds of programs were still valued and funded. I discovered theater in 4th grade, and had the honor of playing Scrooge in our class production of A Christmas Carol. Age 11 and 12 were my peak of stardom on stage, when I played Peter in the stage play version of Peter Pan, and the Artful Dodger in the musical Oliver. Much later in life I was in Peter Pan again, this time the musical version, and I played the maid "Liza." I had the thrilling opportunity to be "flown" in a harness.
Work Experience: When I was 9, I made a list of what I wanted to be when I grew up. It looked something like this: actor, singer, dancer, performer, artist, musician, writer, and gardener. Over the years I have done each of those things, but always "on the side." The Curse of the Neverland is my first published book. For work I have done many things, trying to find where my talents fit in the world of paychecks and salaries, while planning to eventually be paid as a creative. Here are some of the things I've done for a wage: worked at a bakery counter, hostess in a restaurant, waited tables, sign language interpreter, receptionist in a counseling office, billing specialist in chiropractic offices. I had my own business cleaning houses for a while. I learned a lot about behavior change as a tobacco cessation specialist (helping people quit smoking). I worked at a B&B, and I've worked at libraries. Lots of customer service jobs, where I've honed my communication skills. (If you want to be a writer, learning to be a good listener is a big help.)
Family: I have three brothers: one older, two younger, two parents, 4 nieces, 4 nephews, one husband, and 2 cats. I live on the Olympic Peninsula in Washington State with my husband and kitties.
Favorite Book: I still love to read middle grade and young adult fantasy adventure. I also enjoy women's fiction. It's too hard to pick a favorite book as that changes every week. But some of my favorite authors today are Rick Riordan, Maggie Stiefvater, Dave Barry and Ridley Scott, J.K. Rowling, Kristin Hannah, Elizabeth Berg, Jan Karon, Garth Stein, and Erica Bauermeister.
In my spare time: I love to get out in Nature, whether walking, biking, or hiking – it makes me feel good. I read, I enjoy writing to friends (e-mail, but also letters). I journal, daydream, watch lots of movies, and sometimes get to take a NIA dance class. I also have a business helping people in the second bloom of life find and express their purpose. For that I use my skills as a Life Coach, and as a Trained Hand Analyst. (Visit lindymaclaine.com to learn more.)