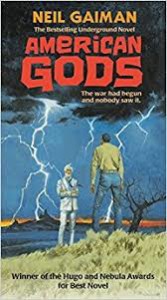 Let's celebrate the greatness of author Neil Gaiman.
Big, Fat, Popular Books
On my way home from a recent family reunion, my connecting flight in San Francisco was delayed. I wandered around and, of course, found a bookstore. I eventually benefited by gaining one "best-selling underground novel" (for adults) entitled American Gods, by Neil Gaiman.
I've read my way through all 750 pages since I returned, engrossed all the while. Hence Neil Gaiman has been on my mind.
Sheer Variety
The sheer variety of things Mr. Gaiman has written leaves me gobsmacked. I've read, enjoyed and admired other of his works for adults—most recently The Ocean at the End of the Lane. He has a gift for swirling different realities together and making them completely believable, while plumbing the depths and corners of the human mind and heart. He's written a bunch of things that fall into the "Young Adult" category as well.
Children's Books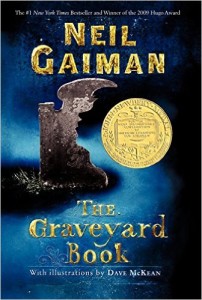 Because this newsletter focuses largely on children's books, let me bring to your attention to Gaiman's The Graveyard Book—the only book ever to win both the Newbery and the Carnegie Medal. I first met this book a couple of years ago when I listened to the audio version, narrated by the author himself. (It's excellent.)
Thriller and a coming-of-age novel rolled into one, it opens with the murder of a family by villain "Jack"—except a toddler escapes. That toddler is the protagonist, Nobody Owens ("Bod.") When he wanders into a graveyard, Bod is adopted and brought up by ghosts.
Although the threat of "The man Jack" finding Bod is a pressing plot point, the book also relates stories chronicling Bod's (odd) upbringing, from childhood to school age, to the teenage years. Well, you can't keep a growing boy in a graveyard forever!
Gaiman is ever-inventive, writes like a god, yet seems to approach his work with wonder and humility. The Graveyard Book entertains, engages, and deserves its best-selling acclaim.
I recommend the audiobook, as well as reading the book aloud as entertainment. It's not too scary… if you are sensitive, you can always make it daytime reading. Hop on down to your library and check out Neil Gaiman's The Graveyard Book today!
Enjoy!