I recently brought to your attention two wonderful elephant books in my post Love, Loss, and Elephants. (Read it here.) This week I bring you two more wonderful elephant books.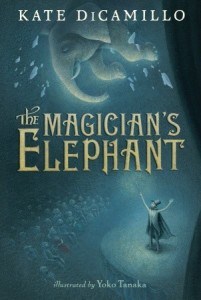 Today's first wonderful elephant book:
Kate DiCamillo, Newbery Medal wining author of The Tale of Despereaux and Flora and Ulysses, is someone I much admire. This week I checked out all her available books in the "J" section of my local branch library, and found a book I'd never read before: The Magician's Elephant by Kate DiCamillo.
When ten-year-old orphan Peter Augustus Duchene encounters a fortuneteller in the marketplace one day and she tells him that his sister, who is presumed dead, is in fact alive, he embarks on a remarkable series of adventures as he desperately tries to find her.
I am especially drawn to its mystery. More than most, it holds the quality of a great fairy tale unfolding in front of your eyes—aided by its black and white illustrations by Yoko Tanaka—somehow reminiscent of The Invention of Hugo Cabret, by Brian Selznik (though quite different in quality). In this moving tale of hearts longing for home, Kate DiCamilo manages to be not just author, but also philosopher, poet, pacifist, magician, and wielder of good.
Today's second wonderful elephant book:
Picture book  Strictly No Elephants by Lisa Mantchev, illustrated by Taeeun Yoo.
When the local Pet Club won't admit a boy's tiny pet elephant, he finds a solution—one that involves all kinds of unusual animals.
Reviewers note accurately that the story is sweet, capturing the magic of friendship and the joy of having a pet. I would add that beneath that, for adult readers, is a tale underscoring the need in our world for going beyond tolerance—to curiosity, welcome and inclusion.
I'm lucky enough to know Lisa Mantchev—she's a fellow local author. I love seeing her work gain visibility and accolades!
There you have it—two more wonderful elephant books. Dash out to your library and check them out!
Happy Reading!